What do you think of this article?
By Dr. David Woo - August 3, 2019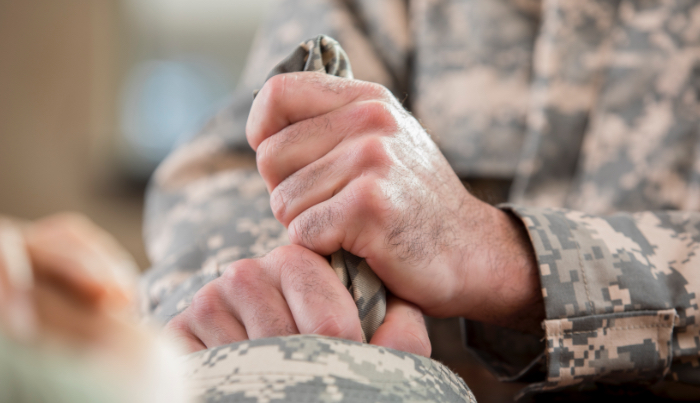 Depression is the second most common illness seen among veterans — one in eight to 10 veterans visiting a primary care physician has major depression disorder (MDD) that requires treatment. (1,2) In fact, depression plagues veterans so much that the US Department of Veterans Affairs has reported that approximately 20 veterans commit suicide each day. (3)

At Madison Avenue TMS & Psychiatry, we believe our veterans deserve the very best in care. That is why we advocate the use of transcranial magnetic stimulation (TMS) therapy for the treatment of depression in veterans. TMS has been used to treat patients with depression since 2008, and has shown remarkable results in clinical trials for its ability to relieve depressive symptoms and achieving remission from depression.
How Does TMS Compare to Traditional Depression Treatments?
Traditional depression treatments include talk therapy, often referred to as psychotherapy, and antidepressant medications. Although these treatment options are helpful to many people with depression, studies have shown that about one-third of patients are considered treatment-resistant, meaning that they do not respond to standard treatments. (4) This reveals that there is a significant portion of depressed patients who need alternative treatment options.

TMS is a noninvasive treatment that requires no anesthesia or sedation. It works by emitting magnetic pulses to the head. These magnetic pulses stimulate certain regions of the brain associated with mood. TMS is administered as a single course of treatment with a duration of approximately six weeks. (5)
Why Might Veterans Benefit From TMS?
TMS is an excellent treatment option for many veterans. Veterans on average suffer from a higher rate of depression compared to the rest of the population, and many don't see results with standard treatments like antidepressants and talk therapy. Being unable to respond to depression treatment can have an extremely deep impact on the life of someone who has served in the military and may have undergone more psychological trauma in their life than the average person. This means that veterans need alternative treatment options for depression.

Additionally, TMS is covered under basic TRICARE benefits.
Does TMS Work for Veterans?
A recent study published in 2018 in JAMA Psychiatry observed the effects of TMS in veterans with treatment-resistant depression. This study was conducted with the US Department of Veterans Affairs. (6) The results of the study showed that veterans achieved remission equally whether they received active TMS treatment or placebo TMS treatment. However, at a closer look, TMS did prove to be an effective treatment.

In this study, many patients with depression were also diagnosed with post-traumatic stress disorder (PTSD). In previous clinical trials studying the effects of TMS, patients with additional mental health disorders were excluded from the results. When a patient has two conditions occurring at the same time, this is called a comorbid disorder. Comorbidity can influence the effects of any given treatment. When observing the results in detail, the study shows that veterans diagnosed with depression, but not PTSD, showed a greater rate of achieving remission. This suggests that TMS may be more effective for veterans only diagnosed with depression.

I have previously discussed this major study in detail. To read more about this, click here.
Why Is it Important to Get Help for Depression?
If left untreated, depression can lead to self-destructive behaviors such as substance abuse or even suicide. Depression can even affect the body on a physical level and can cause:

Chronic pain (7)
Increased risk of heart disease (8)
Insomnia (trouble sleeping) or hypersomnia (excessive sleeping) (9)
Diarrhea and constipation (10)
How Can Veterans Get TMS?
TMS is available to veterans and is now offered under basic TRICARE benefits. Consider calling your insurance company to find a provider near you and to understand coverage for this treatment. If you do not have Veterans Affairs health benefits, you may still be eligible for care with a local Vet Center.
If you are a veteran suffering from depression and are interested in learning more about TMS in New York, call us at 212.731.2033 or contact us online. If you do not reside in New York, ask your doctor for more information about TMS therapy for depression and whether it could benefit you.
---
Resources:
1. Collaborative care for depression in the primary care setting. Veterans Health Administration: Health Service Research & Development. Published July 2008. Accessed July 6, 2019.
2. Depression. US Department of Veterans Affairs: Office Research & Development. Publication date unavailable. Click Here. Accessed July 6, 2019.
3. VA releases national suicide data report. US Department of Veterans Affairs: Office of Public and Intergovernmental Affairs. Published June 8, 2018. Click Here. Accessed July 6, 2019.
4. Ionescu DF, Rosenbaum JF, and Alpert JE. Pharmacological approaches to the challenge of treatment-resistant depression. Dialogues in Clinical Neuroscience. 2015; 17(2): 111–126. Click Here. Accessed July 6, 2019.
5. Frequently asked questions about TMS. Johns Hopkins Medicine. Publication date unavailable. Click Here. Accessed July 6, 2019.
6. Yesavage JA, Fairchild JK, Mi Z, Biswas K, Davis-Karim A, Phibbs CS, et al. Effect of Repetitive Transcranial Magnetic Stimulation on Treatment-Resistant Major Depression in US Veterans. JAMA Psychiatry. 2018. Click Here. Accessed July 6, 2019.
7. Trivedi MH. The link between depression and physical symptoms. The Primary Care Companion to The Journal of Clinical Psychiatry. 2004; 6(suppl 1): 12–16. Click Here. Accessed July 6, 2019.
8. Heart disease and depression: A two-way relationship. National Heart, Lung, and Blood Institute. Published April 16, 2017. Click Here. Accessed July 6, 2019.
9. Nutt D, Wilson S, and Paterson L. Sleep disorders as a core symptom of depression. Dialogues in Clinical Neuroscience. Sept. 2008; 10(3): 329–336. Click Here. Accessed July 6, 2019.
10. Ballou S, Katon J, Singh P, Rangan V, Lee HN, McMahon C, Iturrino J, Lembo A, and Nee J. Chronic diarrhea and constipation are more common in depressed individuals. Clinical Gastroenterology and Hepatology. 2019; Click Here. Accessed July 6, 2019.