Transcranial Magnetic Stimulation in New York City
If you're struggling with depression and medication hasn't helped, it might be time to try something new. TMS has been FDA-approved for the treatment of depression since 2008, and it's been proven effective in over 30 clinical studies. TMS uses a safe magnetic field to stimulate the brain and relieve the symptoms of depression.
Effective
The majority of patients experience relief within several weeks.
Lasting
Patients improve during treatment and continue to feel better after treatment is complete.
Non-invasive
TMS is an outpatient treatment that uses magnets the strength of an MRI placed on the head.
Virtually free of side effects
The most common side effect is headache, experienced briefly by some patients.
---
Madison Avenue TMS & Psychiatry: Our Center in New York City
TMS works, and becoming a depression therapy patient is easy. Our team provides support at every step to facilitate your recovery from depression. We work with the NeuroStar® Advanced Therapy technology to offer a six-week course of TMS treatment. Here is how TMS therapy NYC works:
1
Initial evaluation to determine eligibility for treatment
3
Brain mapping to identify the exact areas of the brain for stimulation
4
Thirty 20-minute TMS sessions over the course of six weeks
Can you benefit from TMS?
Take our quiz to learn if you are eligible for transcranial magnetic stimulation.
Our Team is Here for You
Dr. David Woo's team at Madison Avenue TMS & Psychiatry is empathetic, attentive, and dedicated to helping each of our patients in NYC. Our board-certified psychiatric practice's core values are to collaborate to provide excellent care while empowering patients through education and support.
Get to Know Our Practice
Depression and TMS in New York City
In a report published in 2018, the New York City Department of Health and Mental Hygiene found that approximately 9% of adults in New York City suffered from depression in 2016.* That's almost 1 in 10 New Yorkers!
The same report also demonstrated that while depression occurred in men and women at the same rates, other factors like age, education, household income, employment status, insurance status, chronic disease diagnosis, and perceived safety were linked to the prevalence of depression.
The Majority of New Yorkers with Depression May Not Seek Treatment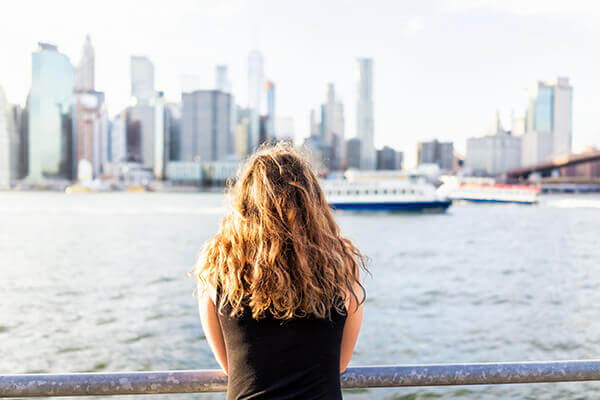 One of the benefits of living in an urban area is the widespread availability and accessibility of services. Despite the fact that there are a broad range of treatments available for depression in New York, in 2016, 62% did not receive treatment for depression medication (including therapy, counseling, or TMS in New York City).₁ This could be due to any number of reasons - cost/insurance availability, feared side effects, inability to recognize one's symptoms, an unwillingness to seek help, or many others.
Psychiatrists in New York can help. In TMS, New York City residents may find a clinically-effective, low-stress, and non-invasive treatment plan that's often completely covered by insurance.
*Source:
Tuskeviciute R, Hoenig J, Norman C. Depression among New York City Adults. NYC Vital Signs 2018, 17(2); 1-4.
More Resources on Our Blog