September 6, 2018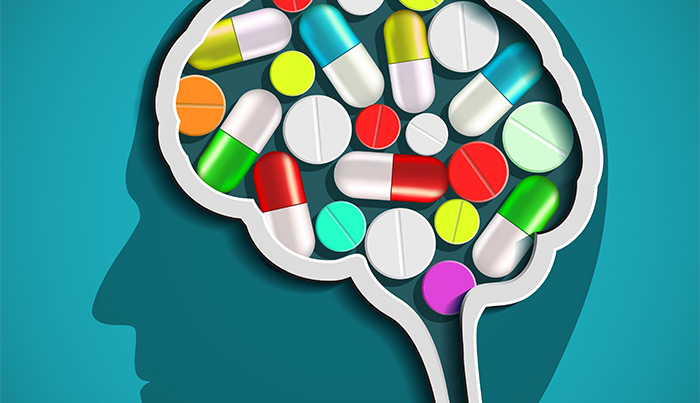 Transcranial magnetic stimulation (TMS) is a non-invasive, non-systemic treatment that uses magnetic fields to treat major depressive disorder. It has been shown to provide successful relief from symptoms of treatment-resistant depression when other treatments, like antidepressants and talk therapy, have not shown significant or consistent results. (1,2,3)
Some people may feel apprehensive about leaving their prescription antidepressant behind during the 6-week TMS treatment, even if the antidepressant has stopped working. If this describes you, you may be wondering, can TMS treatment be done while on antidepressants? The short answer is yes. But let's dive into what a drug-device interaction is and learn why some patients may benefit from a treatment that involves both TMS and certain prescription antidepressant medications.
What is a Device-Drug Interaction?
A drug interaction is an interaction between a prescription medication and another substance, like a certain food, supplement, or other medication — or between a medication and a device, like a pacemaker. Drug interactions can change the way a medication interacts with your body and can cause:
The medication to become less effective

The medication to become more active or potent

Adverse side effects that can affect your health (4)
A device-drug interaction is an interaction that occurs between a prescription medication and a medical device. In the case of TMS and antidepressant medication, the device is the TMS treatment technology.
TMS May Be Considered an Augmentative Therapy With Certain Prescription Antidepressant Medications
An augmentative therapy is when two different treatments are combined to increase, or augment, the effects of the first treatment. (5) TMS can sometimes be used to augment the effects of a prescription antidepressant.
A report published in BMC Psychiatry in 2014 analyzed seven randomized clinical trials involving sham (placebo) augmentative TMS treatment and active TMS augmentative therapy. All participants in the studies included in the analysis had previously taken a course of antidepressant medication and did not show improvement in their symptoms. During these trials, TMS treatment was used as an augmentative therapy to antidepressant medication, either simultaneously (during TMS treatment) or in combination with TMS treatment (taken before and after TMS treatment, but suspended during the course of TMS treatment). Researchers compared patients who received active TMS treatment versus sham TMS treatment.
The analysis concluded that augmentative active TMS therapy significantly increased the effects of the antidepressant medication, compared to sham TMS treatment. Additionally, the report stated that there was not a significant difference between patients who received active TMS treatment and patients who received sham TMS treatment in terms of side effects or drop out rates that may have been due to side effects. This suggests that augmentative TMS may be an effective and safe option for the treatment of treatment-resistant depression. (6)
Furthermore, another study published in 2005 in the journal Psychiatry reported findings that demonstrated a significant accelerated impact on the effects of an antidepressant called amitriptyline while undergoing TMS treatment. Over the course of four weeks, patients were given either sham or active TMS treatment, in addition to taking amitriptyline.
Researchers compared patients' Hamilton Depression Rating Scale scores after one week of treatment to those taken before starting treatment. During the first week, there was a larger reduction in the scores of the Hamilton Depression Rating Scale for patients who received active TMS treatment while taking amitriptyline than for patients who received sham TMS treatment while taking amitriptyline. A reduction in scores after one week of treatment indicates a lower level of severity of depression, and therefore patients improved more quickly with medication plus TMS than with just medication. (7,8)
In What Situations Might TMS Be Combined With an Antidepressant Medication?
Augmentative TMS treatment with a prescription antidepressant may be applied when patients show initial improvement while taking an antidepressant, but for some reason, stop seeing results. However, although augmentative TMS therapy has been safely administered with antidepressant medications, certain antidepressants — specifically tricyclic antidepressants — can increase the risk of seizure when taken during TMS treatment. (9)
A treatment consisting of both TMS treatment and an antidepressant prescription is administered under strict supervision by your doctor. This means that patients undergoing TMS therapy while taking a prescription antidepressant medication are closely monitored and evaluated throughout the treatment to ensure their safety. Medical supervision significantly minimizes the risk of adverse reactions.
At Madison Avenue TMS & Psychiatry, your safety and well-being is paramount. We carefully examine your health history to create a personalized treatment plan that works best for you. Throughout treatment, our doctors regularly monitor the health of each patient to ensure optimal results while maintaining excellent health.
Talk to Your Doctor About Whether TMS Treatment is Right for You
Your doctor at Madison Avenue TMS & Psychiatry will determine if TMS treatment combined with a certain prescription antidepressant is right for you. Treatment decisions are determined based on each patient's specific patient history in addition to his/her current health.
Resources
---