June 27, 2018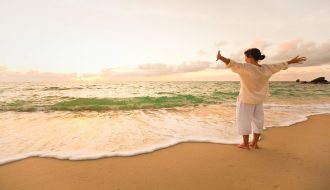 In treatment for depression, the greater the number treatment failures, the lower the likelihood of a successful outcome to the next treatment option (1,2). For people with treatment resistant depression, this may come as no surprise. But what methods have been explored to address treatment-resistant depression? There are two main options: antidepressant medications and transcranial magnetic stimulation (TMS).
The STAR*D study looked at the success of antidepressant medication in the treatment of major depressive disorder.
In 2008, a famous study on depression, known as the STAR*D (Sequenced Treatment Alternatives to Relieve Depression) study, looked at the improvement among patients taking a series of different antidepressant medications (3). Patients entering the study had been diagnosed with major depressive disorder and wanted to try medication treatment for relief.
The study consisted of four rounds of treatment. Each round involved a full course of treatment with antidepressant medication, lasting up to 14 weeks. If the medication worked to treat the patient's depression, they stayed on that medication, and clinicians followed up periodically to monitor their progress. If the medication did not work to relieve the patient's depression, it was either swapped out for another medication, or a new medication was added in addition to the initial one.
After the first round of the STAR*D study, 33% of the patients experienced remission, or complete relief from symptoms. If we directly compare these results to the results of one study on TMS patients, they are similar: A 2012 study on TMS showed that approximately 37% of people achieved remission (4). However, unlike the patients in the STAR*D study, the patients in the TMS study had already tried medication treatment with little to no results.
Let's look a little closer at the patients in the STAR*D study who did not get relief from antidepressant medication, and compare them to TMS patients.
The patients who reached the fourth round of the STAR*D study had already tried three courses of antidepressant treatment without success. These patients were considered to have treatment-resistant depression. In round four of treatment for these patients, the remission rate was below 10%. The results showed that the more medications tried, the lower the likelihood of success with further medications.
In comparison, in the 2012 study on TMS, of the patients who had completed an average of 2.5 or more courses of antidepressant medication without experiencing relief from their depression, 37% experienced remission (4). TMS has a much higher success rate in treating treatment-resistant depression than antidepressant medication.
What does this mean for treatment resistant depression?
Comparing the results of the STAR*D study and the results of the TMS study, it looks like patients with treatment-resistant depression may have a greater chance of successful treatment with TMS than with further antidepressant medications.
If you want to find out more about how medication treatment compares with TMS treatment, read our blog post about it.
References:
---